Super Lauwersmeer kruiser 12.50 AK
Jan and Zwaantje Bos sell "De Tijd" (The Time)
'25 years enjoyed our Super Lauwersmeer kruiser 1250
Jan and Zwaantje Bos were sailors in heart and soul. Until in 1993, at the age of 65, it was physically impossible. On the advice of their son they bought that same year the motor yacht of their dreams: a Super Lauwersmeer kruiser of 12.5 meters. A purchase that gave the couple 25 years of unaffordable pleasure and was given the name De Tijd (The Time).
"The Wadden Sea, The IJsselmeer, The Zeeland waters, The Oosterschelde, The Westerschelde, The Grevelingen. The IJssel, the Rhine, the Maas, the Waal, the Lek, the Vecht." When asked about the Dutch inland waters, coastal areas and rivers that Jan sailed with his Zwaantje, he easily mentioned them one by one. They usually spent weekends or weeks away in their own country.
Via Berlin and Paris to the South of France'.
But De Tijd also brought them abroad several times. Especially after Jan - always owner of Bos bookstore in Kampen - retired, nothing stood in their way for months of staying abroad. Jan looks back on those long journeys with pleasure. With a trip that really stands out. "We sailed via Berlin, Paris and Lyon to the south of France. Especially for this trip with its numerous tunnels, locks and great decay, we had hooks made to hold guided lines, without our own lines getting dirty."
'Woman behind the wheel'.
On many motorboats there is a fixed division of roles, in which the man steers and the woman serves coffee. But on the Super Lauwersmeer kruiser 1250 things went very differently. There Zwaantje had the helm in her hands. Jan: "I grew up with a view of the commercial shipping on the IJssel. I have always looked with admiration at the professional skippers. The woman was always at the helm, the man did the hard work. I also liked the division of roles very much." As a teacher, Jan taught his wife all the tricks of the trade. "My idea is that men don't give their wives space. But we are living in 2019... And of course Zwaantje has had sleepless nights the first time from the tunnels in France. You have to experience that first. Just do it, that's the best method."
Suitable for long-distance travel'.
On board of their dream yacht, Jan and Zwaantje had no shortage of anything. This is logical, because their Super Lauwersmeer kruiser 1250 is extremely suitable for long journeys. "The fuel tank contains 1000 litres of diesel, the water tank contains 800 litres of fresh water and the waste water tank can store 200 litres of shower, toilet and washing water," says Jan. There is no shortage of power supplies either. "Two solar panels provide power supply of 12 and 220 volts. And are supported by an extra battery and generator."
Highly professional maintenance'.
For 25 years, De Tijd gave Jan en Zwaantje a wonderful second home.
And in turn they took care of De Tijd with a lot of love. Every year, the ship received all the necessary maintenance for an optimal condition. Jan: "Lauwersmeer kruisers are known for their excellent sailing characteristics. We have professionally maintained them. In addition, we also invested generously in extra ease of navigation and many extras. This makes De Tijd extremely suitable for open and flowing water."
Not economized on comfort'.
As well as safety, Jan and Zwaantje never economised on comfort. "All windows, roof hatches and the door of the captain's cabin are equipped with mosquito nets, we have integrated the tent and the bimini into a fixed roof over the entire aft deck, the beds have been extended to 2.15 cm for tall people and we have created extra storage capacity for clothing and forage, as well as diesel, mooring ropes, fenders and protective equipment", sums up Jan.
A sublime finish'.
Inside, the Lauwersmeer is remarkably light, partly due to the completely teak interior. Jan: "A conscious choice. The cheaper mahogany was far too dark for us." It contributes to the sublime finish of De Tijd. A quality to which Jan and Zwaantje paid a lot of attention. "Also with the elements we added later, we always looked at the way we could connect this in a way as if it had never been different.
Now that Jan will soon be 90, he prefers to have solid ground under his feet. Hence the decision to stop sailing. With pain in the heart, though. "Time does not stand still. And that shouldn't apply to De Tijd either. I hope that our dream boat will soon find a new owner. And that he will enjoy it as much as we do."
Year built

1993

Material

Steel

Length

12.50 meter
Fuel

Diesel

Motorization

1x Iveco Aifo M8061M 1200 125 pk (Inboard)

Price

€ 115,000,- (TAX paid)
General information
| | |
| --- | --- |
| Name of the yacht | De Tijd |
| Type | Motor yacht |
| Yard | Wouda / Super Lauwersmeer |
| Length | 12.50 meter |
| Width | 3.85 meter |
| Draft | 1.10 meter |
| Weight | 11,000 kg |
| Vertical clearance | 2.50 meter |
| Hullshape | Chine |
| CE certification | NVT |
| Berth | Verkoophaven Sneek |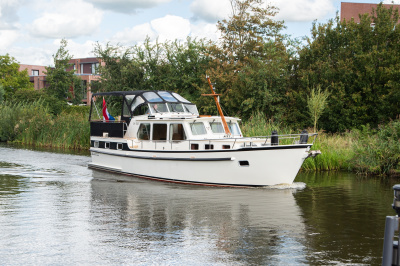 Technical equipment
| | |
| --- | --- |
| Running hours | 4975 |
| Number of engines | 1 |
| Fuel | Diesel |
| Max. speed | 13 km/h |
| Cruising speed | 11 km/h |
| Consumption | 5 ltr/hour |
| Thruster | Yes, electric |
| Stern | No |
| Fueltank | 1,000 liter Steel |
| Drinkwatertank | 800 liter Stainless steel |
| Holdingstank | 30 liter Synthetic |
Electric equipment
| | |
| --- | --- |
| Tension | 12/24/220 volt |
| Generator | Ja, Onan (395 uur) |
| Solar panels | Ja, 2x |
Free information package of this yacht?
Navigation
| | |
| --- | --- |
| Depth sounder | Yes |
| VHF Radio | Ja, Raymarine |
| Log | Ja, Shipmate RS8300 |
| Compass | No |
| Navigation lights | Yes |
| Horn | Yes |
| Stereo | Yes |
| TV | No |
Accommodation
| | |
| --- | --- |
| Name of the yacht | De Tijd |
| No. of beds | 4 |
| Panelling interior | Teak, owners cabin in white ash |
| Heating | Yes, Webasto |
| Water system | Yes |
| Boiler | Yes |
| Cooker | Yes, 4-burner electric |
| Refrigerator | Yes, Coolmatic |
| Lavatory | Yes, electric |
Equipment
| | |
| --- | --- |
| Window material | Double glazing in aluminium profile |
| Anchors(s) | Yes |
| Windlass | Yes, Vetus, manual. |
| Guard rails | Yes, stainless steel |
| Davits | No, well, foundation. |
Fotogallery
4Beaufort's certainties
No hidden (known to us) defects but a high standard quality yacht, for an honest and well motivated price. Perfectly delivered, as you require. This is a certainty we offer.
No hidden defects
Certified EMCI-broker
A fair price
Delivery as required
> Discover all certainties
Yes, send me the free information package
Receive the free information package of the Valkvlet. Information package consists of:
all specifications of the Super Lauwersmeer kruiser 12.50 AK,
a complete photo album of the Super Lauwersmeer kruiser 12.50 AK,
even more details than you can find on the website.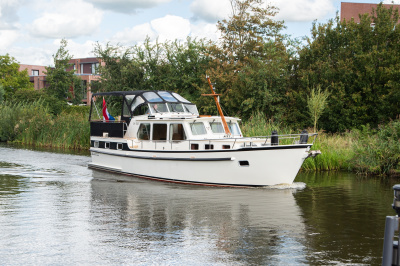 Share
this yacht with a friend!
" Yachtbroker with clear agreements and no

small

letters "
We are Aquanaut's preferred partner

Jachtmakelaardij 4Beaufort
We offer you the best of two worlds around the buy or sale of your yachts. We take care of the mediation both from your own permanent berth and from our home port in Sneek. Are you interested? We are happy to visit the yachts together with you.
Postal address
Spijkerboor 5
8607 KA Sneek (NL)
Visit address
Selfhelpweg 9
8607 AB Sneek (NL)
Call
+31 (0)6 53 72 52 00
Mail
info@jachtmakelaardij4beaufort.nl
Openingstijden
Maandag t/m vrijdag van 9.00 tot 17.00 uur.
Zaterdag van 10.00 tot 14.00 uur.
Ook in de avonduren en in het weekend zijn we bereikbaar en op afspraak beschikbaar.
> View all contact details
Jachtmakelaardij 4Beaufort Facebook