Altena 53 Custom Trawler
Antti and Anne Peuna had many more travel dreams 'We are forced to say goodbye to our Altena 53 Custom Trawler'.
From America to China and from New Zealand to Germany. For seven years Antti (59) and Anne (56)Peuna flew around the world in search of their dream yacht to replace their Grand Banks 42 Classic.Eventually the Finnish couple found their wished copy in Sneek. In March 2013 they fell in love withthe characteristic interior and the unlimited travel possibilities offered by the Brandaris.
At last! That was the feeling when we first boarded the Brandaris in the Netherlands", says Antti.
"We were looking for a yacht that would take us across the Atlantic to discover the north of Europe.
But also a ship that was suitable to travel through the canals, across the rivers and under the bridges
of Europe. And wherever we went, we wanted to feel completely independent. We needed to be
able to reach all places, from freezing cold to hot summers, without having to fill up with fuel or
water all the time."
It's like entering a '30s hunt.
As if the wish list wasn't long enough, the interior also had to fully satisfy the taste of Antti and Anne.
"We don't like modern furnishings. We love a wooden look with character. Fortunately, the Brandaris
also had that characteristic. As if we had entered a '30s yacht." From the moment of purchase, Antti
and Anne experienced the most beautiful journeys. That started with the trip from the Netherlands
to their permanent mooring in Finland. "We sailed from Sneek to Amsterdam where we attended the
coronation of King Willem-Alexander. Then we travelled over the Rhine to Germany. Via Berlin we set
sail for Poland and crossed the Baltic Sea to Tallinn in Estonia. From there we completed our journey
via Turku and Helsinki to Savonlinna in Lake Saimaa. "
'Straight through Russia .
However beautiful, the trip Antti and his friends made round Fennoscandia was even more
impressive. "We were on the road for more than a year. First we sailed from the Baltic Sea to the
White Sea and through the Stalin Canal. Impressive. Especially when you realize that 96 000 up to
200.000 people died while digging... On the way we also visited the Kizhi island with its holy wooden
churches and the Solovetsky island , which are protected by Unesco."
Extreme ice conditions beyond Svalbard


The journey with two friends to Spitsbergen, the most northerly place in the world, was just as
unforgettable. "The Brandaris and a pair of thick clothes kept us warm. We visited Longyearbyen,
Ny-Alesund and Barentsburg. Then we went by Moffen Island. We couldn't go any further, because
the ice conditions were getting too extreme." A warmer memory is the summer of 2016 in which
Antti and Anne sailed along the coast of Norway. "I had already sailed ahead and had spent the
whole winter in Tromsø. During that winter we spent over thirty days at sea spotting whales.
Wonderful!
On our way down to Norwegian coast we saw deep blue fjords, clattering waterfalls and snowy
mountains rising out of the water." Charming Telemark Canal and beautiful "white villages" along
south coast and Oslo Fjord.
Back to Baltic via Göta Kanal
From Norway to beautiful west coast of Sweden and from Gothenburg to Göta kanal. Beautiful
Swedish country side with Castles and Mansion. Historic Göta Kanal was our last part before getting
back to Baltic sea.
"Due to private circumstances, for the time being, do not travel.
In between, Antti and Anne spent a lot of time with their children on the yacht in Finland, with
Argipelago and the natural beauty of Lake Saimaa as their favourite destinations. In six years time
they made unforgettable trips with the Altena 53 Custom Trawler. Actually, there were still many
trips on the program. But due to private circumstances they will no longer make these trips with their
beloved ship. Antti (59) and Anna (56) put the Brandaris on sale.
We're giving up a lifestyle.
With pain in the heart, that's for sure. "With the sale of the Brandaris, we are giving up a lifestyle. We
are pleasure boaters in heart and soul and will have to get used to life without a boat." Fortunately,
an alternative is already available. In Lapland, their current homeland, they have a log cabin on the
lake. Not too far from their home town of Rovaniemi. But no matter how beautiful the cabin feeling
is, it can't compare to our stay at the Brandaris."
The Brandaris is currently located in the home of Jachtmakelaardij 4Beaufort. Make an appointment
for a viewing or step aboard the Altena 53 Custom Trawler.
Year built

2007

Material

Steel

Length

16.20 meter
Fuel

Diesel

Motorization

2x John Deere 6068 175 pk (Inboard)

Price

€ 575,000,- (TAX paid)
General information
| | |
| --- | --- |
| Name of the yacht | Brandaris |
| Type | Motor yacht |
| Yard | Altena Yachting Holland |
| Designer | Brinksma Marine |
| Length | 16.20 meter |
| Width | 4.90 meter |
| Draft | 1.50 meter |
| Weight | 40,000 kg |
| Vertical clearance | 3.35 meter |
| Hullshape | Multi chine |
| CE certification | A |
| Berth | Sneek verkoophaven |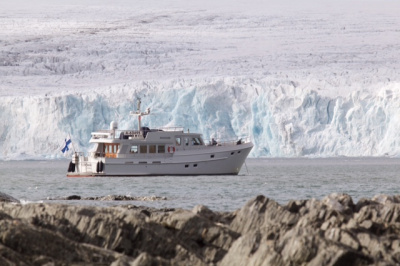 Technical equipment
| | |
| --- | --- |
| Running hours | 4039 |
| Fuel | Diesel |
| Cruising speed | 15 km/h |
| Consumption | 10 ltr/hour |
| Thruster | Yes, hydraulic |
| Stern | Yes, hydraulic |
| Stabilizers | Yes, Vetus |
| Fueltank | 4,000 liter |
| Drinkwatertank | 2,000 liter |
| Holdingstank | 600 liter |
Electric equipment
| | |
| --- | --- |
| Tension | 24V/230V |
| Generator | Yes, Mastervolt 12kW (909 uhr) |
| Solar panels | No |
Free information package of this yacht?
Navigation
| | |
| --- | --- |
| Depth sounder | Yes, Simrad |
| VHF Radio | Yes, Simrad |
| Log | Yes, Simrad |
| GPS | Yes, Simrad |
| Compass | Yes, Simrad |
| Navigation lights | Yes |
| Horn | Yes |
| Bilge pump | Yes |
| Stereo | Yes, Bang en Olufsen |
| TV | Yes, flatscreen |
Accommodation
| | |
| --- | --- |
| Name of the yacht | Brandaris |
| No. of beds | 4 |
| Panelling interior | Mahogany |
| Heating | Kabola B-17 tap |
| Water system | Yes |
| Boiler | No, hot water via Kabola |
| Cooker | Yes, Ceramic Siemens ET715 |
| Refrigerator | Yes, |
| Lavatory | Yes, 2x elektrisch |
Equipment
| | |
| --- | --- |
| Window material | Double glass in aluminum profile |
| Anchors(s) | Yes |
| Windlass | Yes, hydraulic |
| Guard rails | Yes, stainless steel |
| Davits | Hydraulic cran |
Fotogallery
4Beaufort's certainties
No hidden (known to us) defects but a high standard quality yacht, for an honest and well motivated price. Perfectly delivered, as you require. This is a certainty we offer.
No hidden defects
Certified EMCI-broker
A fair price
Delivery as required
> Discover all certainties
Yes, send me the free information package
Receive the free information package of the Valkvlet. Information package consists of:
all specifications of the Altena 53 Custom Trawler,
a complete photo album of the Altena 53 Custom Trawler,
even more details than you can find on the website.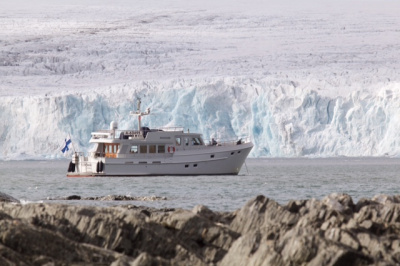 Share
this yacht with a friend!
" Yachtbroker with clear agreements and no

small

letters "
We are Aquanaut's preferred partner

Jachtmakelaardij 4Beaufort
We offer you the best of two worlds around the buy or sale of your yachts. We take care of the mediation both from your own permanent berth and from our home port in Sneek. Are you interested? We are happy to visit the yachts together with you.
Postal address
Spijkerboor 5
8607 KA Sneek (NL)
Visit address
Selfhelpweg 9
8607 AB Sneek (NL)
Call
+31 (0)6 53 72 52 00
Mail
info@jachtmakelaardij4beaufort.nl
Openingstijden
Maandag t/m vrijdag van 9.00 tot 17.00 uur.
Zaterdag van 10.00 tot 14.00 uur.
Ook in de avonduren en in het weekend zijn we bereikbaar en op afspraak beschikbaar.
> View all contact details
Jachtmakelaardij 4Beaufort Facebook