Alm Kotter 1500 AK
Owner Willem misses his Alm Kotter 1500 AK already "My soul and fifty years of barge experience are in this yacht.
In 2005 Willem Mosterdijk became 65. Time to enjoy the freedom to retire after 53 years of commercial shipping with his wife Christine. Together they dreamed of travelling to the Black Sea, across the Donau and across the Balkans. Adventures for which Willem had an Alm Kotter built, in which half a century of barge experience was processed.
If anyone knows what hard work is, it's Willem. When he was twelve years old, he joined his father to learn the trade of inland skipper. After sixteen years of sailing on inland waterways, he opened his own chartering office in the port of Rotterdam in 1980. And in 1990 he opened another one in Duisburg, Germany. But no matter how hard work that was, most drops of sweat really pearled from his forehead shortly after he retired.
"Like my baby was baptized.
"For half a year, I worked on board the construction of Christine. At the shipyard in Werkendam, I slept in my Trawler at night. And from early in the morning until late in the evening I went to work on our dream yacht. At the launch it felt as if my child was being baptized. There really is a piece of my soul in this yacht. And more than fifty years of barge experience."
"Engine room not hidden under mother's tablecloth.
Knowledge that is particularly expressed in the engine room. "In most yachts this is hidden under their mother's tablecloth. But not with Christine. In our case, the engine room is a clear space that is accessible from the outside." Three diesel tanks with a combined capacity of about 4,000 litres, a day tank of about 100 litres with automatic filling system, extra diesel filters, a 6 cylinder 135 HP Perkins, a 9 KW insulated Kohler generator, a Mastervolt system, Kabola heating, hydrophore, separate batteries for bow and stern thrusters. It can all be found in the engine room.
"A wheelhouse that feels like an inland vessel"
"Ideal for long journeys. Christine is really made for that purpose. Also in terms of control technology. This Alm Kotter has also been thought out in detail in this area." The bow and stern thrusters can also be operated on deck and the yacht has two VHFs, a radar, electronic chart, AIS with transponder, GPS receiver, stop and go control for the generator and a compass autopilot that can also be operated with a joystick. "With so much technology in the wheelhouse, it looks like you're driving an inland ship. A powerful feeling."
'In holidays cross the whole countries'.
Unfortunately for Willem he experienced that pleasure a lot less than desired. In his business the man died, who would take over everything from him. "That's why I got stuck and my real pension didn't come until ten years later. Nevertheless, with his wife and dog, he experienced wonderful moments on board during holidays. "Because we crossed whole countries every summer, we still sailed about 24,000 km with Christine. The Netherlands, Belgium, Germany, France. We visited the most beautiful cities by water and on the way we enjoyed the sun and freedom."
"Sleeping on a cloud cover"
And of the luxury on board, because also in terms of convenience and comfort, Willem left nothing to chance. The entire ship has a headroom of 220 cm and 220 Volt, on two lazy chairs you can sit back and watch TV and in a bed of 1.75 cm wide from the burn centre of Beverwijk, sleeping feels like lying on a cloud cover. "In combination with the spacious kitchen, toilets and bathroom, Christine is a small house on the water.
"The first paint is still undamaged on it.
With pain in his heart, Willem is now saying goodbye to his pension gift from his own pocket. "I am a skipper in heart and soul and already miss the water. But everything comes to an end. I am 80 years old. A few years ago we sold our beautiful farmhouse to live in an apartment. Now is the time to get rid of Christine. We used to build our lives slowly. Now we are finishing."
That life course ensures that the new owner gets a gem in his hands. "We have our own ship house. Christine only went outside when we were on board. The first paint is still on. Practically undamaged! For an accessible budget, the buyer really gets a lot of quality, luxury and comfort."
Year built

2005

Material

Steel

Length

15.40 meter
Fuel

Diesel

Motorization

Perkins 135 pk (Inboard)

Price

€ 269,000,- (TAX paid)
General information
| | |
| --- | --- |
| Name of the yacht | Christine |
| Type | Motor yacht |
| Yard | De Alm Jachtbouwers |
| Length | 15.40 meter |
| Width | 4.85 meter |
| Draft | 1.45 meter |
| Vertical clearance | 3.65 meter |
| Hullshape | Multi chine |
| CE certification | B |
| Berth | Ossenzijl, bezichtiging op afspraak |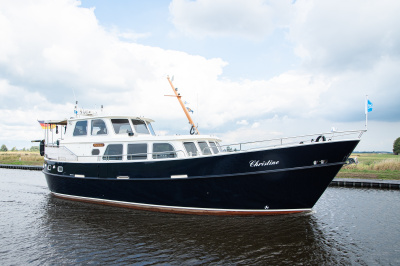 Technical equipment
| | |
| --- | --- |
| Running hours | 2900 |
| Fuel | Diesel |
| Max. speed | 15 km/h |
| Cruising speed | 11 km/h |
| Consumption | 5,5 ltr/hour |
| Thruster | Yes, electric |
| Stern | Yes, electric |
| Fueltank | 4,500 liter Steel |
| Drinkwatertank | 1,200 liter Stainless steel |
| Holdingstank | 800 liter Stainless steel |
Electric equipment
| | |
| --- | --- |
| Tension | 6V / 12V / 24V / 230V |
| Generator | Kohler 8 KvA |
| Solar panels | No |
Free information package of this yacht?
Navigation
| | |
| --- | --- |
| Depth sounder | Yes, Raymarine Tridata |
| VHF Radio | Yes |
| Log | Yes, Raymarine Tridata |
| GPS | Yes, Furuno |
| Compass | Yes |
| Navigation lights | Yes |
| Horn | Yes |
| Bilge pump | Yes, 3x |
| Stereo | Yes |
| TV | Yes, Flat screen and TracVison receiver |
Accommodation
| | |
| --- | --- |
| Name of the yacht | Christine |
| No. of beds | 4 |
| Panelling interior | Mahogany |
| Heating | Central heating, Kabola with radiators |
| Water system | Hydrophore |
| Boiler | No, Kabola |
| Cooker | AEG 4 burner ceramic |
| Refrigerator | Yes, Coolmatic 110L |
| Lavatory | Yes, 2x electric with bidet rinse |
| Air Con | No |
Equipment
| | |
| --- | --- |
| Window material | Aluminum, double glazing, tinted |
| Anchors(s) | Yes, stainless steel anchor with approx. 35 meter chain |
| Windlass | Yes, electric |
| Guard rails | Yes, stainless steel |
| Davits | Yes, stainless steel |
Fotogallery
4Beaufort's certainties
No hidden (known to us) defects but a high standard quality yacht, for an honest and well motivated price. Perfectly delivered, as you require. This is a certainty we offer.
No hidden defects
Certified EMCI-broker
A fair price
Delivery as required
> Discover all certainties
Yes, send me the free information package
Receive the free information package of the Valkvlet. Information package consists of:
all specifications of the Alm Kotter 1500 AK,
a complete photo album of the Alm Kotter 1500 AK,
even more details than you can find on the website.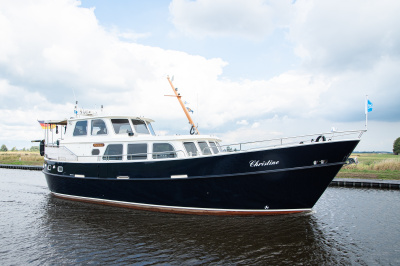 Share
this yacht with a friend!
" Yachtbroker with clear agreements and no

small

letters "
We are Aquanaut's preferred partner

Jachtmakelaardij 4Beaufort
We offer you the best of two worlds around the buy or sale of your yachts. We take care of the mediation both from your own permanent berth and from our home port in Sneek. Are you interested? We are happy to visit the yachts together with you.
Postal address
Spijkerboor 5
8607 KA Sneek (NL)
Visit address
Selfhelpweg 9
8607 AB Sneek (NL)
Call
+31 (0)6 53 72 52 00
Mail
info@jachtmakelaardij4beaufort.nl
Openingstijden
Maandag t/m vrijdag van 9.00 tot 17.00 uur.
Zaterdag van 10.00 tot 14.00 uur.
Ook in de avonduren en in het weekend zijn we bereikbaar en op afspraak beschikbaar.
> View all contact details
Jachtmakelaardij 4Beaufort Facebook