Vacance Solide 435: 'Een one of a kind all-rounder'
A day trip on Dutch waters or a weeks-long journey to Scandinavia, France or England. Whatever destination Ernst Jan and Sabina wanted to reach, their Vacance Solide 435 had to be able to take them there safely, comfortably and stylishly. From these starting points, the born and bred water sports couple thought out their dream yacht inch by inch. The result was a one of a kind all-rounder, which they said farewell to with pain in their hearts after ten years.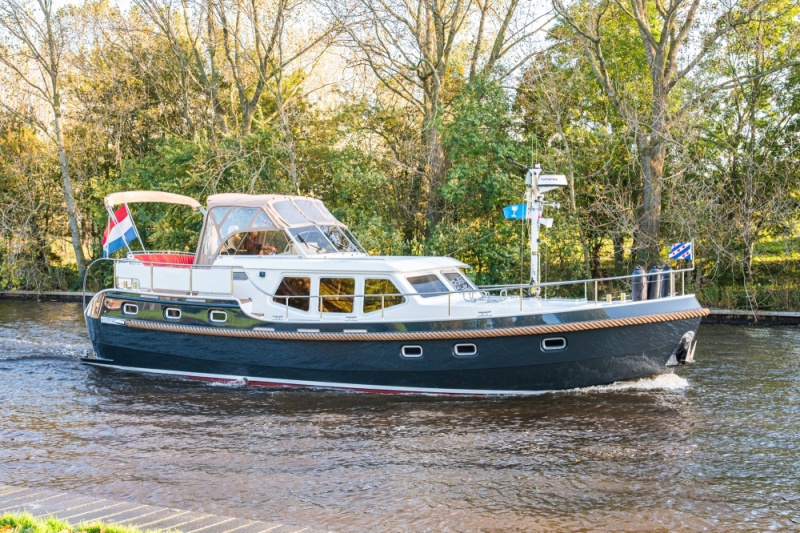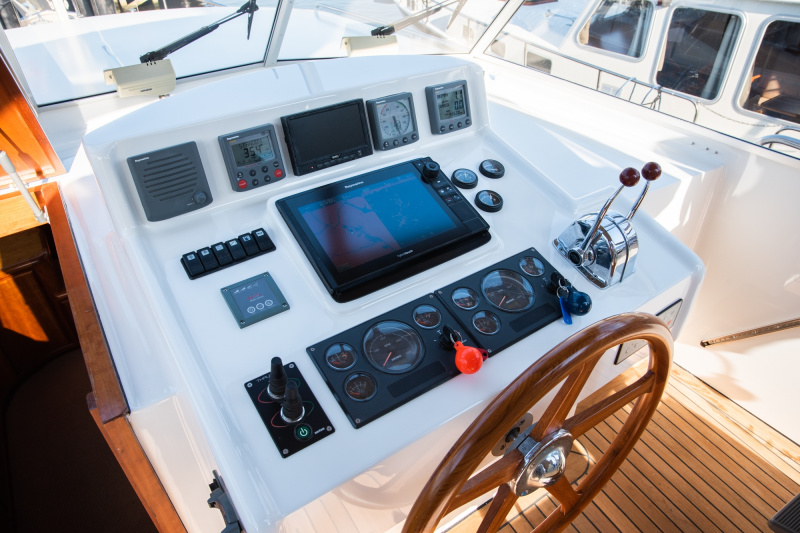 Ernst Jan was only six years old when he was allowed to crawl on a stool to take the helm of his father's motor yacht. "I was brought up on the passion for water sports. Going out into the world with the family, discovering cities from the water and maneuvering through locks and into harbors. I loved it and still do. Fortunately I met a woman who is just as much of a water sports fan as I am."
Creating a wish list
For decades, they sailed across Europe in several yachts. Sabina: "Through all those trips we got a better and better idea of our ideal yacht. Just over ten years ago we decided to put our ideas down on paper. My husband focused on the requirements for how the boat should be equipped. I gave my input in terms of layout, atmosphere and experience. When we really had all our wishes mapped out, we decided to go for a new-build yacht."

The wish list was not small. Ernst Jan wanted hydraulic systems for bow and stern thrusters, anchor and mast equipment. Two engines, extensive navigation options and stabilization fins were also a must. In addition, central heating, air conditioning, double glazing and a heavy-duty generator were not to be missed. "Whether we wanted to go to Normandy or Isle of White, we had to be able to sail safely and comfortably under all conditions."
Sabina added her wishes. A spacious kitchen, for example, with double fridges, induction hob and plenty of cupboard space, and private bathrooms also came up on the wish list. "Because not only ourselves, but also our guests had to lack nothing." Also important? Space for relaxation. "Hence the need for a spacious salon, large aft deck and extended swimming platform."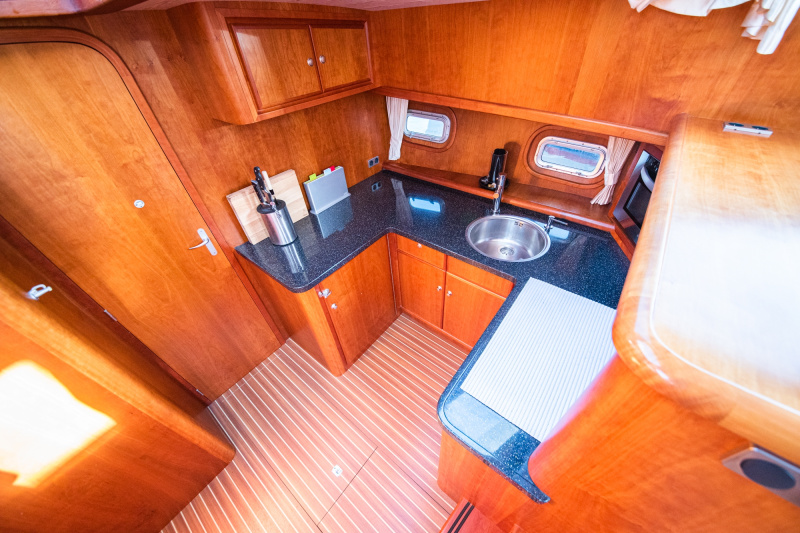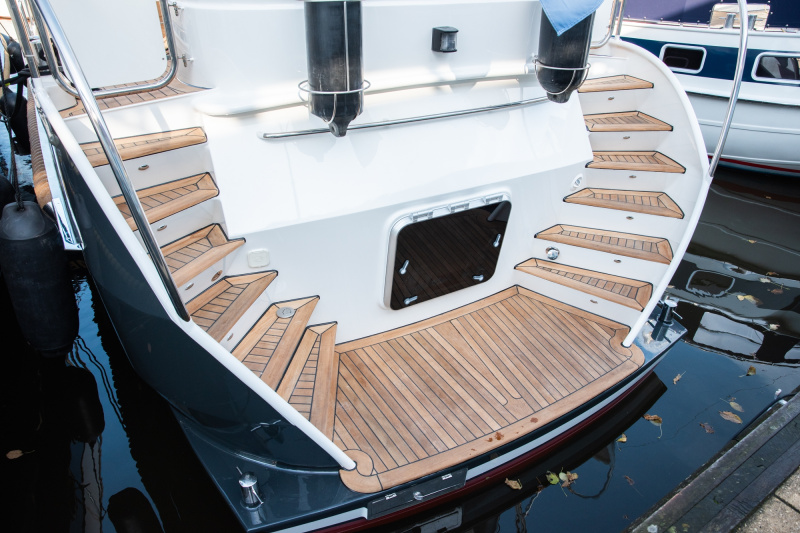 Realizing a dream
The complicating factor in realizing all their ideas was another ultimate wish. Ernst Jan: "We wanted a length of about 13 meters and a maximum draught of 1.30 meters. We found that there was always a place in the harbor for ships of that size. Moreover, we came from a yacht that was 12.5 meters long. Because of the maneuverability, we didn't want to make too big a step."

With their concrete plans, they knocked on the door of yacht yard Vacance. There they dared to take on the challenge of creating the spaciousness of a 15-meter vessel on a compact 13.20-meter yacht. "We were closely involved in the design phase and really thought out our yacht together inch by inch," says Mr. S.. After the multiknikspant hull stood, the yacht passed into reputable hands for spray painting, engineering and carpentry.
Ernst Jan and Sabina wanted the best for their yacht and chose specialists to finish the vessel. "In doing so, we didn't skimp on anything. We had the hull carefully built and finished with a mirror smooth finish. We incorporated everything that was possible in terms of technology into the yacht. And from the sleek teak deck to the atmospheric cherrywood interior, we worked mostly with quality pine."
Experiencing Happy Hours
When their Vacance Solide 435 was launched in 2010 and christened Happy Hours, it was a special moment. Ernst Jan: "We saw a yacht in which we put more than 30 years of water sports experience into the water. It was inevitable that we would experience many Happy Hours on it." In the ten years that followed, that wish also came true. Both during day trips and far journeys that they made with the sailing company Ocean People.

From the Loosdrecht lakes to vacations to England, France and Scandinavia. Happy Hours brought Ernst Jan and Sabina everywhere; safe, comfortable and stylish. "Exactly as we conceived it, Happy Hours felt like a fish in water both in wind force 5 and under a bright sun" says Sabina. "Sometimes it just seemed like she was enjoying our trips as much as we were. That was a very special feeling."
They now grant that feeling to the next owners of their Vacance Solide 435 as well. Ernst Jan: "We have reached an age where we can fully enjoy our leisure time. At least half of the year we want to spend on the water. And then our beloved dogs have to come along. A different yacht suits that purpose. We make that decision with pain in our hearts, because our one of a kind all-rounder Happy Hours gave us everything we hoped for."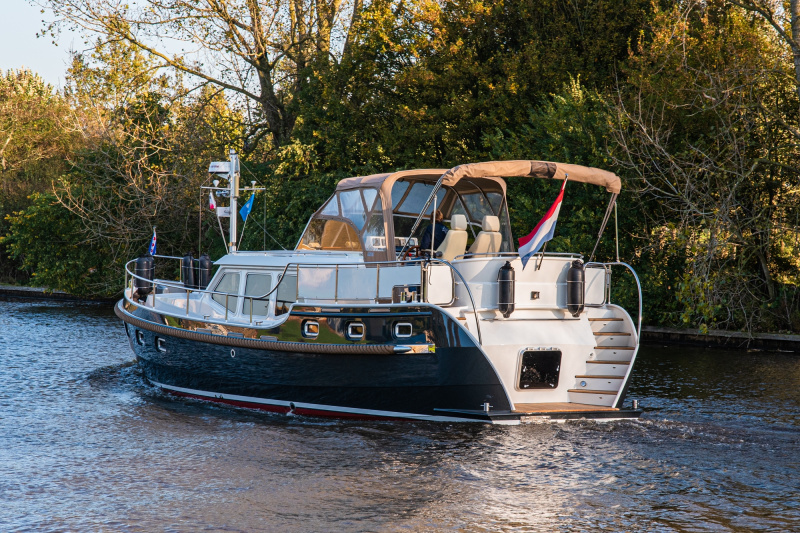 Handing over as new
How much Ernst Jan and Sabina still care about their yacht is evident from the way they will soon hand her over. Sabina: "Happy Hours was our baby. We took great care of her and maintained her very well. With a covered berth and maintenance after every sailing season. Just this summer we had the underwater hull sandblasted and then provided with a new paint system, the entire yacht painted from the outside and the teak deck sanded down."

As a result, the Vacance Solide 435 looks like new. Ernst Jan: "As a new owner you get a ready-to-go ship in your hands, which is also fully serviced. It's just turn the key and enjoy."