'This Aquanaut Unico is made for distant dreamtravel'
Burch and Anja left for Switzerland in 1970 to build a new life. Near Lucerne they ran a hotel with restaurant for years and started a company that installed professional kitchens. For relaxation, the couple always looked for sailing on the water. Once retired, that passion led to the trip of a lifetime to Corsica. Especially for that trip they bought their Aquanaut Unico 1500 FA 'San' in 2019.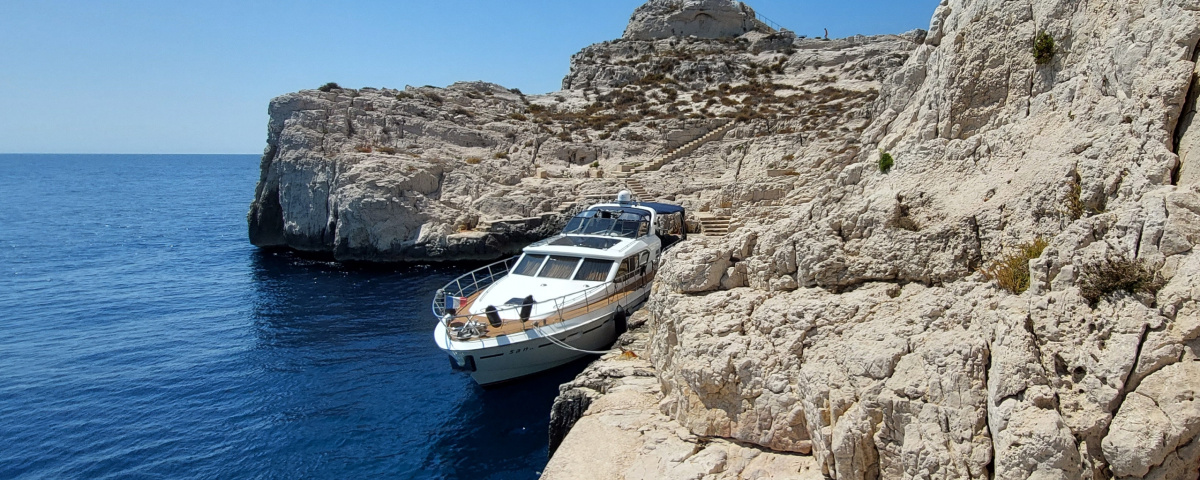 Even before their retirement, the companies of the Dutch Burch and Anja passed into the hands of two sons. That gave them the space to turn their passion into their profession. "We have been sailing catamarans as a hobby for a while. When the financial space and the free time arose, we made it our job. We sailed guests in our catamarans across the Mediterranean for eight years and took care of their trip completely."
From catamaran to motorboat
Mali San (small dream) and Veli San (big dream) were the names of their catamarans. "Croatian names, a predilection that we had for wonderful holidays with our five children in that country." With their retirement, Burch and Anja also said goodbye to their last catamaran. Instead, they bought a Rego 39. "We wanted to experience what it was like to sail a motorboat as avid sailors."

Own Covid bubble on board
The transfer went so well that they made plans for the trip of a lifetime on board. "Covid broke out. That's why we wanted to create our own bubble with a long journey to Corsica, right through the Netherlands, Belgium and France. For that trip we were looking for the ideal ship to experience long journeys through inland and outer waters, in complete safety and comfort. We found the perfect ship at Jachtmakelaardij 4Beaufort: an Aquanaut Unico 1500 FA. "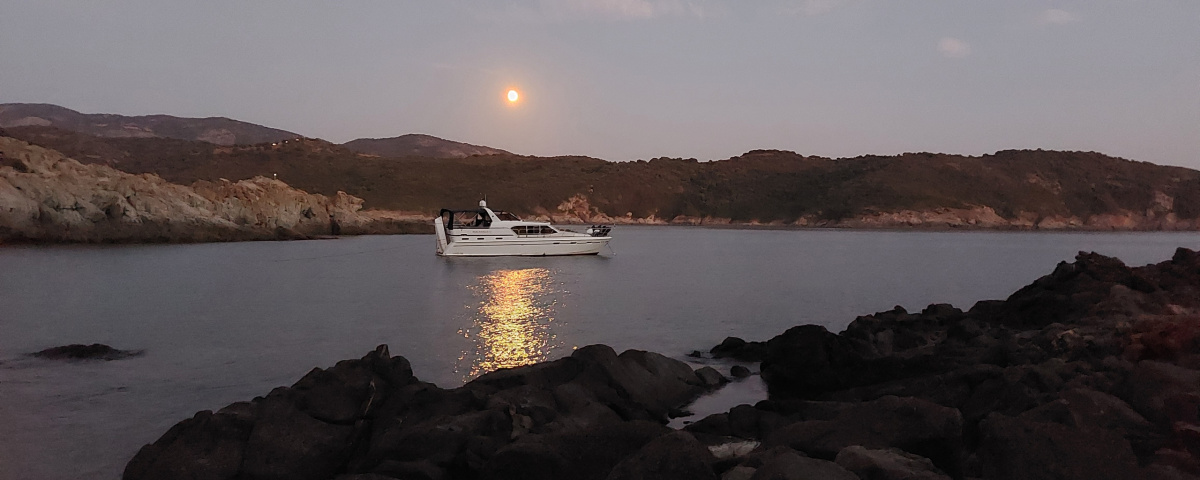 Already three years on the road
As a memento of their catamaran past, the ship was renamed San. After that, their journey could start from the sales port of 4Beaufort in Sneek. "We've been on the road for over three years now. At our leisure. Nothing has to be done, everything is allowed. We moor where we want. At the moment we are on Sardinië near Corsica, and we explore the island for a while by camper."

Enjoy Corsica
The return trip is planned for the spring of 2023. "Next summer we hope to arrive in Sneek again. That is also the moment when the San goes on sale. Then our dream trip is over and we want to pick up our old love for the open water, sailing on a catamaran, again. " But before that happens, Burch and Anja still enjoy the deep azure blue water, the crescent-shaped bays and the rugged mountain landscape of Corsica.
Waves of 2.5 meters
The couple is also looking forward to the return trip. "Because this super complete Aquanaut Unico is made for distant dream travel. We only need the mainland and ports occasionally to fill up with diesel and water. That offers all the freedom. With two engines and the bow and stern thruster, we can also get anywhere. From manoeuvring in small channels to sailing against the current on rough seas. We simply braved waves of 2.5 meters."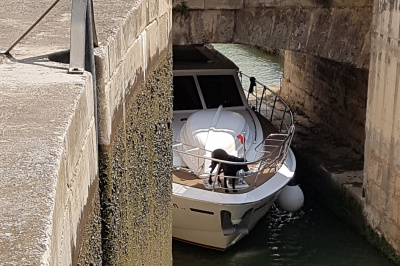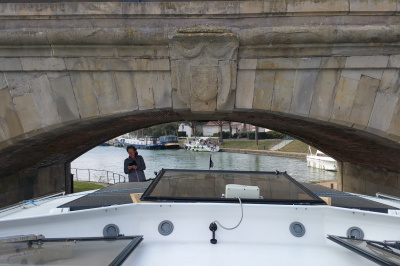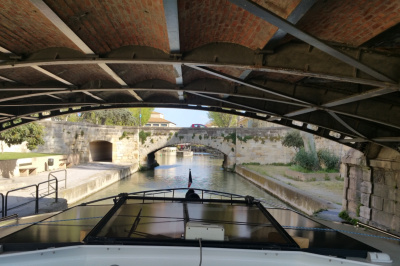 Trouble-free through Canal du Midi
Also the bridges and locks in France are no problem. "The creepheight of just below 3.5 meters is ideal. Just lower the hood and radar bracket (hydraulically) and we can come everywhere effortlessly underneath and through. With the windows flat, the clearance height even goes down to just 2.9 meters. The bridges on the Canal du Midi were therefore not an obstacle either."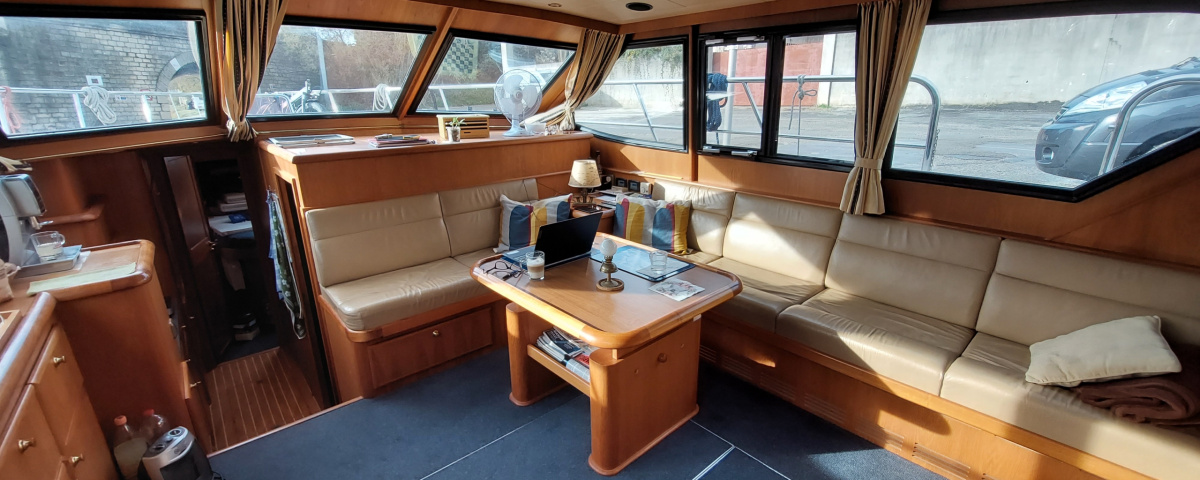 Second home on the water
What also provides a lot of pleasure on the road, are the space and comfort on board. "San is really a second home on the water. It is fully equipped with, among other things, two showers, two toilets, central heating, four bedrooms, seven fixed sleeping places, a fully equipped and beautifully decorated kitchen, a large salon and spacious aft deck."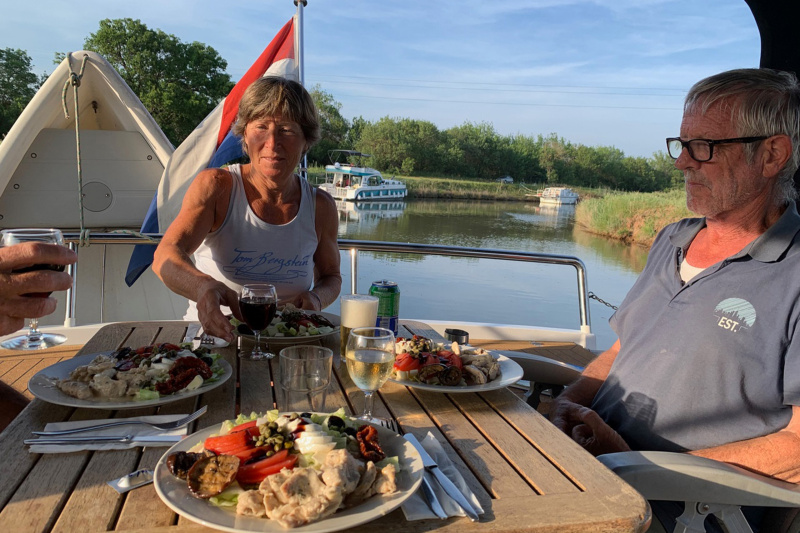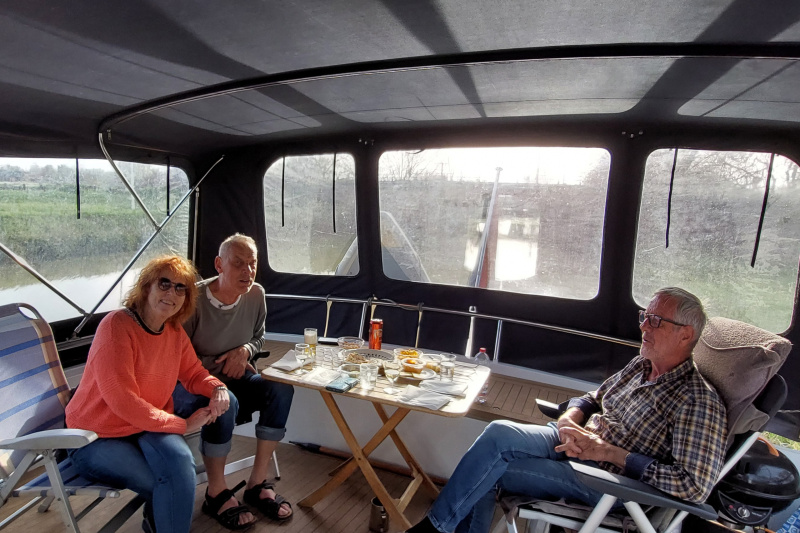 Delicious dining with each other
Along the way on their dream trip, friends and family sometimes take a few days to weeks through the Netherlands, Belgium and Frankrijk. "Then we would never be on each other's lips. At the table in the salon we also experienced delicious dinners. Enough space to dine together." Burch and Anja have a clear picture of the profile of the new owner of their San. "People, who love to travel far with family or friends around them."

It is clear that they will miss their Aquanaut Unico. But the memory of San is forever. "In the coming months we hope to add a few more beautiful experiences to our dream trip. Toulouse and Paris, among others, are still on our bucket list. In addition, we do see where else we moor. Just like the outward journey, we also make the way back a nice stress-free period."