'No Pilot 39 received more love and attention than our Ghost'
It was soon clear that Sybrand (71) would not be leading his father's farming life. He was born in Friesland and preferred to become a furniture maker. At the age of 15 that choice already led to a 53-year (!) career as a ship's carpenter. First as an employee, later as an entrepreneur. In that role he developed a love for the water and the Pilot 39 designs of Willem Nieland. Three he was allowed to carpenter himself, including his own Ghost.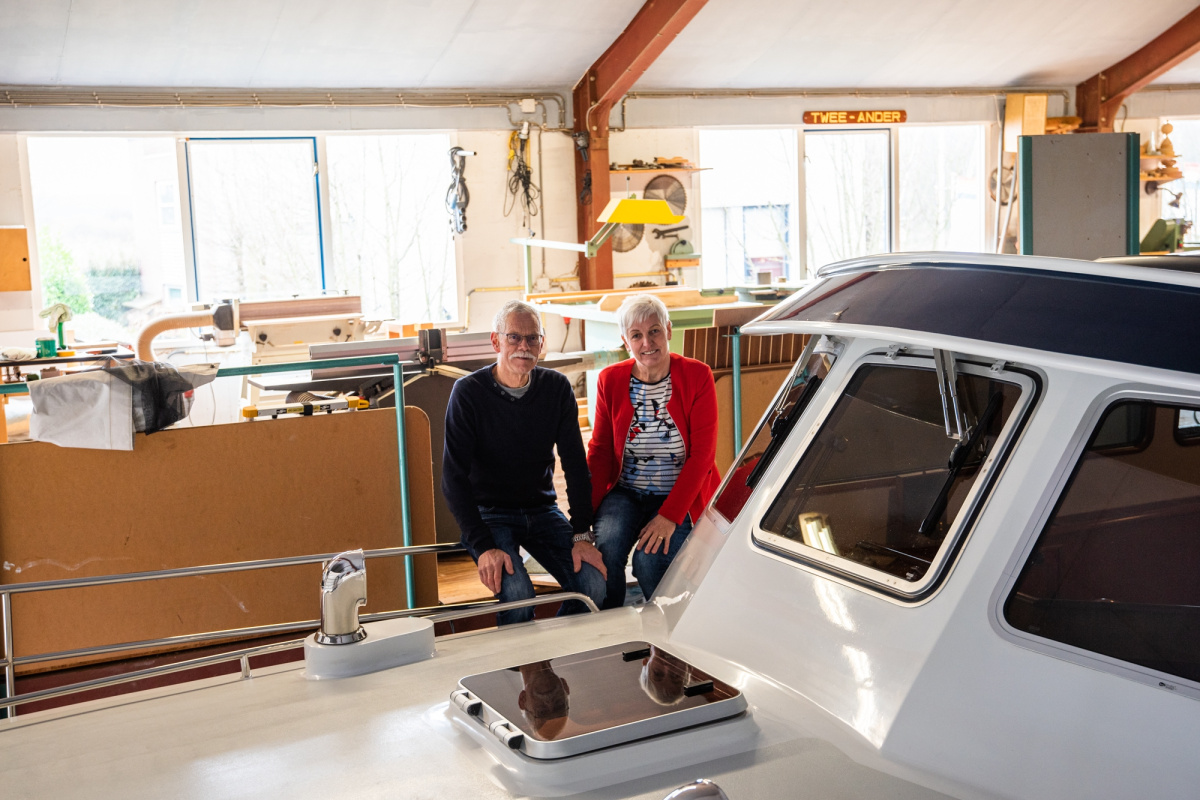 "I suspect that no Pilot ever received more love and attention," laughs Sybrand's wife Yvonne. She and Sybrand, spent many evenings and Saturdays in, on and at Ghost, transforming it into a dream yacht. "Sybrand first worked for shipyards in Lemmer, Kootstertille, Stavoren and Echtenerbrug, but eventually decided to start his own business. So we moved to Lelystad, where we had a house with a shed added. Starting in 2007, we spent more time in the shed than at home for 2.5 years, haha."
Buying from the neighbor
The reason? The purchase of the hull of a Pilot 39 from their neighbor in Lelystad, Rego Jachtbouw. Sybrand: "For that yard I had already done the carpentry and finishing work for two other Pilot 39s. During those activities I fell in love with this sturdy model. As an ex-sailor I saw myself and Yvonne sailing on such a yacht. The idea of doing the carpentry and finishing work entirely to our own taste really appealed to me."
Work of a lifetime
Sybrand and Yvonne took their time for what they saw as the work of their lives. Sybrand: "As a teenager I built my first sailing boat, a Spanker. It was given a grade of nine. For me this was the confirmation that I had craftsmanship at my disposal. Based on that confidence, I have since built countless boats. First one-off sailing yachts by designers like Vermaas, De Ridder and Van der Stadt. Later, on motor yachts such as Newlanders and Pilots. I wanted to put all my experience, knowledge and skills into this Pilot 39."
A shared passion
Yvonne also applied all her expertise. "From the moment we moved to Lelystad, I joined Sybrand in the general partnership. I took care of the administration, offered support for projects and developed a specialism for interior paints. I also studied materials, products and trends. This created a common passion, which we could fully put to use in the construction of our Pilot 39. We discussed all choices in detail."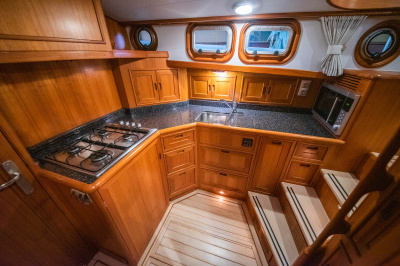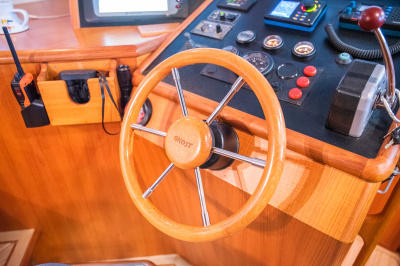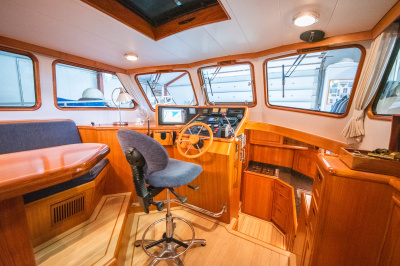 2500 man and woman hours
Their 2500 man and woman hours are reflected throughout Ghost. A floor made of ash wood without stripes, window frames trimmed with teak and tightly laminated rooms are just a few examples. Yvonne: "We get the most compliments on the balanced whole. We insisted on veneer that was cut from a single log. As a result, the woodwork doesn't draw in different ways, but in one style. That brings so much peace!"
Eye for detail
That eye for detail can also be seen in the salon. Sybrand: "I created a table with an adjustable top. You can slide that forward to create more space if you want to sit behind it." A trick that was hardly used at the time was also applied by Sybrand. "I placed the TV on an elevator. That way the screen can sink into the cabinet at the moment you're not looking at it."
Technical tours de force
There is no shortage of technical innovations on board anyway. Yvonne: "Sybrand installed a central bilge system and put a time relay on the waste water pumps. He also built in a grey water tank with an overflow sensor. This switches off the hydrophore when the tank is full. In addition, he installed a fridge and an extractor, which are powered by 230 Volts. Power for that comes from a 3000 watt inverter."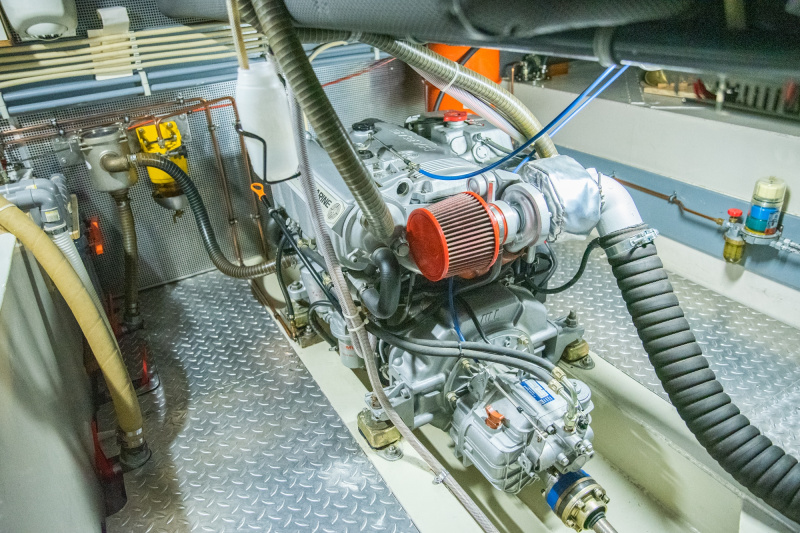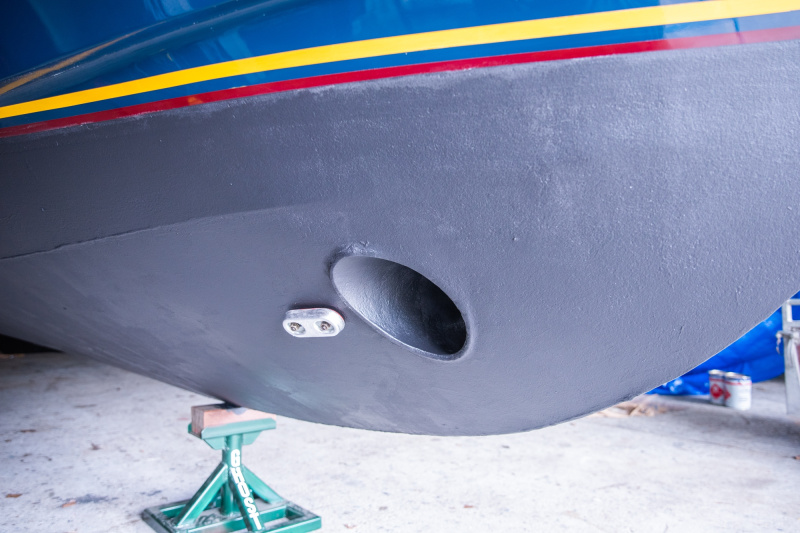 Modified layout
Now that Sybrand and Yvonne didn't have to work for someone, they were able to give it their all. "This is also reflected in the general outlines" states Yvonne. "We adjusted the layout of the boat quite a bit. In all Pilot 39 models the steering position is on the starboard side. On Ghost, Sybrand placed it in the heart of the ship. The stairway down the stairs was therefore moved and the layout of the lower cabin was also adjusted. This made it even more practical and spacious.
Great moments
Inspired by the book "The Sea Wolf" by English author Jack London, Sybrand and Yvonne's Pilot 39 was christened Ghost in 2009. "That was the name given to the ship that plays the leading role in this wonderful book," says Sybrand. For no less than 13 years the couple sailed on all the rivers, canals and lakes of the Netherlands. "We experienced the best moments when our family was complete. With son Tom, daughter Marieke, their partners and the grandchildren", says Yvonne.
Beautiful friendships
It was also great fun on days when the members of the Pilot Club gathered together. "As Pilot sailors, we naturally joined them," says Sybrand. "From IJmuiden to Wijk bij Duurstede; we sailed to a lot of ports to meet each other for a weekend. That's how beautiful friendships were formed. Yvonne even served as secretary-treasurer for another six years."
Discovering the world
Despite the family and club outings, Sybrand and Yvonne are now saying goodbye to Ghost. Yvonne: "Our Pilot 39 was also the calling card for our company. But now that we have retired, Ghost no longer has to play that role." "But," Sybrand adds: "The main reason is that we want to see a bit more of the world through city trips and vacations. We are thinking of buying a motor home."

What is already certain is that the new owner will have a gem in his hands with Ghost. Yvonne: "Ghost was in our shed every winter. Sybrand would go through it with a magnifying glass. He would immediately take care of every little scratch. As far as that goes, after 13 years the ship is still in showroom condition." And completely up-to-date. "Smart TV, AIS on board, solar panels," Sybrand lists. "Ghost is equipped with many modern gadgets."

» View the specifications and photos of Pilot 39 (Ghost)