Custom Trawler OC
The brothers Hans and Thomas are changing course. "After 30 years on the water, it's time for other things.
The German brothers Hans (68) and Thomas (63) look back with a smile on the holidays they had in their youth. Every year they went with their parents, two other brothers and sister to Harderwijk in the Netherlands for a holiday at the Wolderwijd. At this Veluwerandmeer they developed a passion for water sports that they have shared for 30 years. But that comes to an end with the sale of their dream yacht l'Escargot. "We now want to discover the world from the land as well."
Hans was 38 years old when he bought his first yacht in 1989 together with his 33-year-old brother Thomas. "Unlike my sister and other brothers, as a child we fantasised about our own boat. As soon as we had the financial means to do so, we made our move. In Maasbracht, Limburg, we bought a 12-metre-long Babro Classic. For more than 15 years we sailed over the German, Dutch, Belgian and French waters."
Making Boy's Dreams come true'.
Often separately from each other with their own families or friends, but also occasionally together they went out. "We keep a good memory of that. Together we spent two or three weeks on the road to make our boyhood dream come true, while having nice conversations. That has really strengthened the bond between us." During those joint trips it was not uncommon to talk about their ideal yacht. "A boat with three cabins, a saloon that also offers a beautiful view while seated, an engine room that would make us independent from land during our travels, an interior with a characteristic wood look and dimensions for which all bridges, locks and canals in Europe were no obstacle.
From Babro to Custom Built Trawler
The last years that Hans and Thomas sailed with their Babro, they visited a lot of water sports fairs. But finding a yacht that met all their requirements was not easy. "Until we entered our dream boat in Düsseldorf: a Custom Trawler. At that boat we could tick our list one by one. And then there was the beautiful style of the Trawler. We were really wild about it." Not long after their discovery, the search for the ideal construction partners began. Hans and Thomas found them in Woudsend and Sappemeer. "The hull was built in Woudsend. In Sappemeer all the woodwork, electricity and piping followed. A father and a son ran their own craft business there. With a lot of love and feeling they took care of the complete interior within a year. They did not give 100%, but 110%./ What a craftsmen!"
No problems at bridges and locks'.
In 2004 the brothers named their Custom Trawler l'Escargot. Derived from the snail that is an exclusive delicacy in French, German, Belgian and Dutch cuisine. Not entirely by chance the countries that Hans and Thomas wanted to discover at their leisure from the water. "And that's what we've done. From the Canal du Centre Historique to the Frisian lakes. And from Ghent to Berlin. We sailed or visited many canals, rivers, lakes and cities. Because l'Escargot made it possible. We were able to fold the mast from 4.00 meters to 3.30 meters. And with a width of 4.60 meters and a length of almost 15.0 meters, we never got into trouble at bridges and locks."
Dear moments and unforgettable memories'.
At l'Escargot Hans and Thomas also travelled together or separately with their friends and families. It provided many precious moments and unforgettable memories. "In the meantime I have become a grandfather. Going out with your wife, children and grandchildren. There is no better place."
Yet their adventures on the water now come to an end. After a lifetime of work, Hans and Thomas are now enjoying their retirement. "And that's a good time to do something else. We discovered the world from the water for 30 years. Now we want to do that from the land. My brother and I are still eager to travel and now want to buy a motorhome. On to new adventures."
Year built

2003

Material

Steel

Length

14.99 meter
Fuel

Diesel

Motorization

1x John Deere 6068 TFM50 225 pk (Inboard)

Price

€ 295,000,- (TAX paid)
General information
| | |
| --- | --- |
| Name of the yacht | l'Escargot |
| Type | Motor yacht |
| Yard | Molenaar Jachtwerf De Hemmes |
| Designer | Custom |
| Length | 14.99 meter |
| Width | 4.60 meter |
| Draft | 1.20 meter |
| Weight | 25,000 kg |
| Vertical clearance | 3.30 meter |
| Hullshape | Chine |
| CE certification | B |
| Berth | Sneek |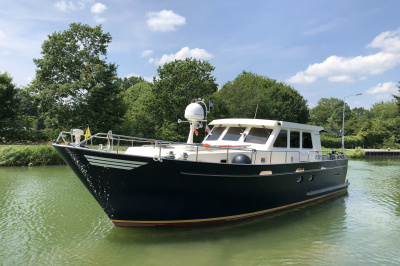 Technical equipment
| | |
| --- | --- |
| Running hours | 3800 |
| Number of engines | 1 |
| Fuel | Diesel |
| Max. speed | 15 km/h |
| Cruising speed | 12 km/h |
| Consumption | 4,5 ltr/hour |
| Thruster | Yes, Düco 16 Pk |
| Stern | Yes, Cupa 90 |
| Fueltank | 2,000 liter Steel |
| Drinkwatertank | 1,000 liter Stainless steel |
| Holdingstank | 250 liter Stainless steel |
Electric equipment
| | |
| --- | --- |
| Tension | 12V / 220V |
| Generator | Yes, Whisper Power 10 Kw H-SQ10 |
| Solar panels | No |
Free information package of this yacht?
Navigation
| | |
| --- | --- |
| Depth sounder | Yes |
| VHF Radio | Yes, Nasa M-tech DSC + ATIS |
| Log | Yes |
| GPS | Yes, Horison C1000 CP |
| Compass | Yes |
| Navigation lights | Yes |
| Horn | Yes, signal class 4 en Marco compressed air fanfare |
| Bilge pump | Yes, 3x |
| Stereo | Yes, 3x |
| TV | Yes |
Accommodation
| | |
| --- | --- |
| Name of the yacht | l'Escargot |
| No. of beds | 6 |
| Panelling interior | Cherry |
| Heating | Yes, Kabola B12 Tap |
| Water system | Yes |
| Boiler | No, through Kabola |
| Cooker | Yes, electric |
| Refrigerator | Yes, 2x WAECO R80 + R110/115 |
| Lavatory | Yes, 2x |
Equipment
| | |
| --- | --- |
| Window material | Double glazed tinted |
| Anchors(s) | Yes, stainless steel (50 kg) |
| Windlass | Yes |
| Guard rails | Yes, stainless steel |
| Davits | No |
Fotogallery
4Beaufort's certainties
No hidden (known to us) defects but a high standard quality yacht, for an honest and well motivated price. Perfectly delivered, as you require. This is a certainty we offer.
No hidden defects
Certified EMCI-broker
A fair price
Delivery as required
> Discover all certainties
Yes, send me the free information package
Receive the free information package of the Valkvlet. Information package consists of:
all specifications of the Custom Trawler OC,
a complete photo album of the Custom Trawler OC,
even more details than you can find on the website.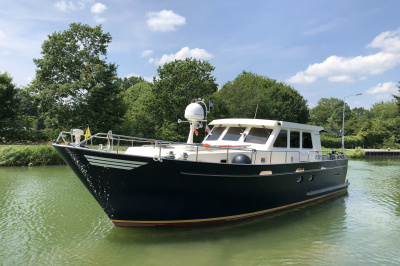 Share
this yacht with a friend!
" Yachtbroker with clear agreements and no

small

letters "
We are Aquanaut's preferred partner

Jachtmakelaardij 4Beaufort
We offer you the best of two worlds around the buy or sale of your yachts. We take care of the mediation both from your own permanent berth and from our home port in Sneek. Are you interested? We are happy to visit the yachts together with you.
Postal address
Spijkerboor 5
8607 KA Sneek (NL)
Visit address
Selfhelpweg 9
8607 AB Sneek (NL)
Call
+31 (0)6 53 72 52 00
Mail
info@jachtmakelaardij4beaufort.nl
Openingstijden
Maandag t/m vrijdag van 9.00 tot 17.00 uur.
Zaterdag van 10.00 tot 14.00 uur.
Ook in de avonduren en in het weekend zijn we bereikbaar en op afspraak beschikbaar.
> View all contact details
Jachtmakelaardij 4Beaufort Facebook